"If I ReTweet myself, then I ReTweet myself. I am large. I contain multitudes."
—  WWhitman adapted from Song of Myself
Seems like a good bit of Twitter is stuff like this:

and stuff like this: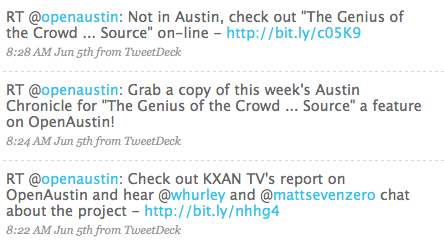 and Mr. 50k (now nearing 100k) generates a heck of a lot of tweets that look like this: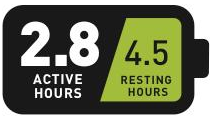 There's no questions that he's tweeting. And He's generated A LOT of tweets in his historical rise to non-fame.

But much of it is little more than chatter, like the folks in the grocery store on their bluetooth headsets that talk to their disembodied friends through out their entire shopping spree. There's not much to the conversation. And the appearance is fairly goofy, especially if they like to gesture with their hands… But the conversation looks  similar to the tweets above. Chatter for chatter's sake.
[Wait a sec, "Husky pants for adults?" Now that's funny. Would I follow the guy? No. But he occasionally shows a blip of humor throughout his meteoric 14,000+ tweets.]
Let's do the math on this for a second.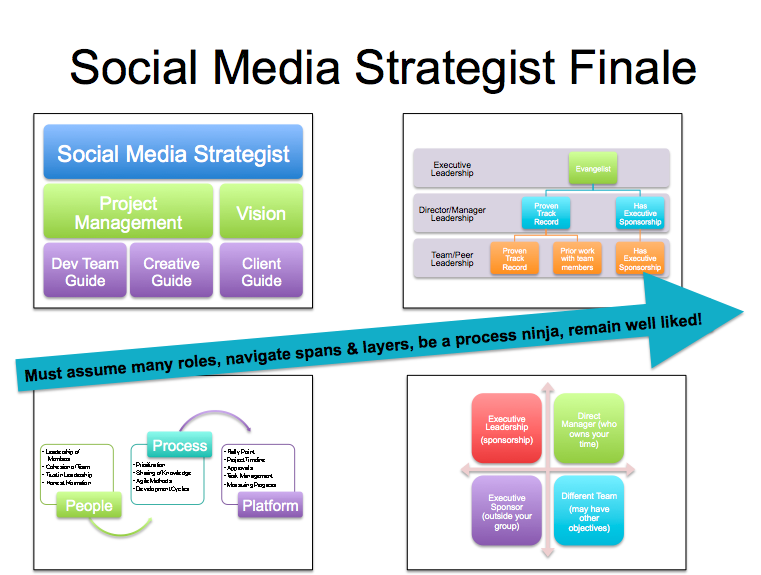 That's only 24 tweets a day, 7/24. So not un-reasonable. But check out Mr. 50k's tweetcloud:

Id's say that's pretty much a tweet content value of ZERO.
Perhaps I need to do a bit of work on my content as well:

But at least I have a few more words to work with.
So last observation:
The top image is a friend who is working to work Twitter as a business. To him, Twitter is an RSS feed that's easier to explain to people. Feed everything through it, derive benefit from the followers actions.
The 2nd image is from Whurley. No harm in referring to your self as an evil genius, over and over and over again. And no harm in self-promoting a bit via your Tweets. [We all do this.] But if your primary contribution to the twitterverse looks like a self-selected "genius" promo, well… ]
The 3rd image is from Mr. 50k. Who in dialogue via twitter admitted that he Auto-DMs people so that he can communicate with them better. When I asked him why he didn't at least visit the person's Twitter page and see if he had any connection whatsoever with the person, he responded, "When you get over 100 new followers a day, you see if you have time to contact each one of them directly."
In a rather amazing turning of social media on it's ear, Mr. 50k called me after I had been tweaking his ear for a week to stop "gaming" Twitter. He asked me to stop. We had a nice chat. "You can't believe what kinds of opportunities this number of followers gives me."
Uh, yes, actually I can. What I still wonder, is what kind of value you can possibly give to your followers in 736 tweets per month. And if it's just chatter, WOW that is a lot of wasted energy for all parties concerned.
I will leave you with the actual WWhitman quote.
"If I contradict myself, then I contradict myself. I am large. I contain multitudes."
@jmacofearth
permalink: http://bit.ly/tweet-tweet
A few related posts: