What if Twitter stopped reporting number of followers and followees, would that change our behavior?
It is certainly as tedious to unfollow as it is to follow. A click to follow is the same as a click to unfollow. With twenty tweeps per follow/friend page, it takes a ton of clicks to add or shed tweeps.
[Quick math: I currently follow over 4,300 people. To manage those connections I have to page through 215 pages to validate or unfollow. That's silly. Let's take it one step further, let's say I can manage about 3 pages a minute (20 secs per page) in a perfect environment, that's still an HOUR AND TEN MINUTES just to look through all of my followers! Now that's some serious TWITTER FATIGUE!]
Could Twitter give us the old 10-20-50-100 listings per page, option? How about a mass unfollow tool? An API to let you mass manage your Twitter account? What about a Twit-Link migration tool to export all of your twitter followers and followees to a new platform, WAVE perhaps?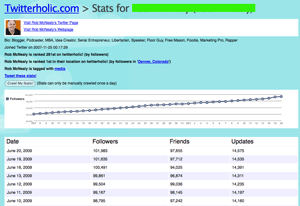 So Mr. 50k moved on becoming Mr. 100k. But the quality of his work is not better. His RTs and Auto-DMs and Auto-Follows certainly UP his tweet counts, but his content has not improved. He is seriously chatting on twitter. Inanities about anything and everything. And he gets credit for all his Auto-Tweets and Auto-DMs. On the surface he looks like a Twitter Hero, on the same playing field as Obama and Jimmy Fallon. But that wouldn't really be accurate when you look at the value of the content he is creating.
But if you dig in a little to see some of the raw stats. He averages 767 tweets a month. That's
about 37 a day (if you use working days of May as an example). That's a lot of Tweetin. Perhaps he gives out valuable information or is followed for his wisdom or wit? Uh… Not so much. Oh well, Mr. 50k is working the system in a different way than I am. And I guess that's between him and his flock!
So I think we, as Twitter users, especially if we are trying to set a standard as leaders in the twitterverse, have a responsibility to manage our followers as well as those we follow. I DO go back through my follower pages, I even TRY to make it all the way to the last page of tweeps, to unfollow stragglers and block the porn tweeters that are getting more aggressive. So we are responsible for cleaning both sides of our tweetstream. And the reason is, as people are looking for others to follow (a process we call discovery) they will often look to the leaders they already trust and see who they follow. That's how I do it anyway. And if I look at someone's followers, to find tweeps to follow and I see a bunch of MLM marketers, GET 10k Followers a Month scammers, Britney Fxxxxxxd Vids, I can tell the person does not have very active twitter hygiene. And that side of the equation is important as well.
My final point: If Twitter eliminated the FOLLOWS and FRIENDS count, the pointless follower race would be over. Nobody would care how many followers you have. They COULD discover more about your followers if they chose to look, but it wouldn't take too many screens of discovery to see that someone was more about quantity and less about quality.
Work the tweet, trust the tweet, value the tweet. But don't just TWEET. Tweetin to be tweetin (I'm goin to the store, I'm goin to lunch, I'm goin to coffee, I'm goin to bed) gets old pretty quick. And most tweeters, even if they start there, begin to develop their own style, or in writer's terms, their own "voice." So do that. Find out what is interesting in your world and tweet that. No need to tweet me that you're going to bed or going to lunch. Just do that stuff. Let me know when you do or find something interesting.
<sarcasm> I'm signing off now, ending the post, see ya, love ya, mean it, follow me, tweet ya later. </sarcasm>
@jmacofearth
permalink: http://uber.la/2009/06/twitter-fatigue/
Browser Update: Today I switched from Firefox to Safari on Twitter.com and I think I am noticing a significant speed advantages. I'm still not getting 3 pages per minute, but I am seeing less problems with unfollowing. And I'm liking the performance in my WordPress management pages as well. Could Firefox have met it's streamlined match?
Auto-Tweeting Preferences: I did something yesterday in one of my social networking platforms that is collecting my del.icio.us adds and tweeting them as a generic tweet like this "Links for 6-19-09 (del.icio.us)." And I can't find where to turn it off. Is it in Yahoo's MyBlogLog, is it in my Disqus prefs, or FriendFeed or my new BING tools? I'm still looking. So it was an accident to turn it on, I wasn't sure what the preference meant. But now I can't find out how to turn it OFF. UG!